Meet Dave
David Moore has been speaking across the nation for thirty five years, focusing on successful relationships and motivation. He has been the featured speaker for hundreds of weekend conferences and has provided the keynote address for some of the nation's largest companies.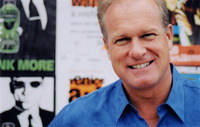 David has received the Young President's Organization's highest possible speaker rating. He spent thirty five years building various ministries. As a youth pastor his group grew from 15 students to 800 and as a senior pastor, his church grew from 400 to 18,000. Palm Desert City Counsel hailed, "David Moore Day" to honor his positive contribution to the city.
Audiences are consistently engaged by Dave's use of stories and illustrations. He is challenging, aggressive, compassionate, pragmatic, humorous, and thought-provoking. His captivating style has an appeal for people of all ages and has a tremendous cultural cross-over draw with black and Hispanic audiences. Connecting and interacting with people is David's greatest joy. While his speaking engagements take place in both for-profit and nonprofit organizations and corporations, Dave's energetic style is well received - wherever the venue.
David has had extensive radio and television experience with his weekly television show taking a 9.7 market share. For ten years, his daily national radio program had an audience well over a million and was the fastest growing show of its type in radio history. His current Spanish version has a global audience of nineteen million. With a graduate degree GPA of 3.96, David was placed within the top one-half of one percent of graduate students. Yet his deepest desire is to ignite the heart... not inflate the head... to initiate positive change and empower people to maximize life. David has traveled the world and led tour groups throughout much of Europe and the Middle East, as well as serving as a consultant to Israel's Department of Tourism.
David is a "life-loving" communicator who loves fast cars, faster motorcycles, scuba diving, and polo. He motivates people to embrace life and business with a renewed sense of passion and commitment to get it right. A native Californian and family man with three grown children who enjoy life in all its fullness, whether the family is exploring the depths of the Pacific Ocean or riding Harleys through Southern California, they are his greatest tribute to skillful living. He is currently a consultant specializing in strategic planning, marketing and management team building. He's also a motivational speaker and the author of eight books including "Five Lies of the Century" and the recently released "Animal Instincts - The Ultimate Edge.
Frequently Asked Questions:
What's Dave really like? We have collected answers to the most often asked questions over the years.
Q. Where did you go to college?
A. Simpson College, in the Bay Area of California, which is affiliated with the Christian and Missionary Alliance.
Q. What kind of motorcycle do you ride?
A. I ride a KTM 380 dirt bike and special construction Harley Davidson.
Q. Why do you ride motorcycles?
A. It's a wonderful change of pace and a great way for me to "clear my head."
Q. What version of the Bible do you use?
A. Well, for studying I use the New American Standard, but for preaching I use both the New Living translation and The Message. I just like their easy to read and understandable styles.
Q. What are your favorite books?
A. My top ten favorites books are:
Half Time – Changing Your Game Plan from Success to Significance, by Bob Buford
Lifestyle Evangelism, by Joe Aldridge
Disappointment with God, by Phillip Yancey
Please Understand Me, by David Keirsey and Marilyn Bates
7 Habits of Highly Effective People, by Stephen Covey
More Than a Carpenter, by Josh McDowell
Evolution – A Theory in Crisis, by Michael Dalton
Raising Positive Kids in a Negative World, by Zig Ziglar
What Wives Wished Their Husbands Knew About Women, by James Dobson
Show Me God, by F. Heeren
To have Dave speak at your event use the speaking engagement questionnaire to submit your request.