A novel on the horrors of human trafficking.
Author Pamala Kennedy takes you on a journey through the underworld of human trafficking in her novel "More Than Rice".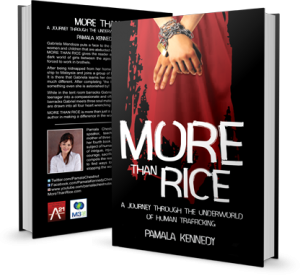 Gabriela Mendoza puts a face to the gut-wrenching tragedy of the 3 million women and children that are abducted every year and sold into human trafficking. MORE THAN RICE gives the reader an up close and personal look into this dark world of girls between the ages of twelve and seventeen, stolen and forced to work in brothels.
"Kennedy's work simultaneously calls the attention of readers to a horrific practice that claims the freedom of 3 million new women each year, while instilling an uplifting underlying message, deftly interweaving compelling themes, page-turning plot, artfully rendered characters, and social issues." -Power Of Women
Visit Pamala's Site For More Info